"THE ONE 'HEADLINE SWIPE FILE' TO RULE THEM ALL"
THE ULTIMATE CHEAT-SHEET TO WRITING 'MUST CLICK' HEADLINES AND SUBJECT LINES - EVERY TIME
Q. What do writing headlines and laxatives have in common?
A. Both can irritate the absolute crap out of you. It's true, isn't it?
Plumbing the depths of your creativity for the right headline can cause a real pain in the brain. But listen, this irritation can be avoided.
Oh, sorry, I should probably introduce myself. Hiya, it's the Email Marketing Maverick here...
Yup, that's me - Author, email copywriter and the dude that's about to make all your marketing efforts a whole lot easier and...a whole lot more profitable.
Now, let me ask you a question. Do you write subject lines, blog posts, social media content,or advertising of any sort?
You do?  Great, then listen up.
I, the Email Marketing Maverick, have some very good news for you.
You see, I have just finished creating a product that eliminates ALL the irritation that comes from writing headlines that plagues 99% of marketers online today, and, it will work equally well for both novice and seasoned alike.
Huh?
Did I just hear you scoff?
Hmm, I guess I don't blame you
It's a bold claim, sure.
However, it's a claim I strongly stand behind.
You see, I don't think you can argue against the viewpoint that marketers struggle to write compelling headlines. That's like saying folks don't struggle staying on diets, or saving money, or getting out of bed in the morning.
That stuff's hard for everybody. And so it is with writing headlines - it's hard for everybody.
Also, the product I've created - not the exact one, but similar - is used by A-list copywriters all over the world.
OK, Hot Shot, what's this "special" cheat-sheet then, huh?
Geez, you're a pushy one, eh?
But I like that, Chief. And yes, I will answer your question, but first....
...let me ask YOU a question.
Have you ever stopped to think about how many leads and sales you may have lost because of emails not opened, blog posts not read, and advertising that's ignored?
It's a sobering thought, isn't it?
You know, there are many marketers and business owners with great products and services that are struggling to keep their business alive.
Why is this?
Because getting your product and service into the hands of customers requires great marketing. And marketing is all about getting attention.

No Attention, No Sales.
It's that simple.

And with getting attention, well... it all starts with your headline.
Look, I'll be honest with you...
...I have an ego like an egg shell, and you've already scoffed at me once, so... to avoid my ego being further damaged, I'm gonna let some of the world's greatest copywriters echoe my exact sentiments when it comes to importance of the headline.
"Your headline is the single most important piece of copy you will write."

John Carlton (The most ripped-off copywriter on the web today)
If your headline is poor, nothing can save your ad. If your headline doesn't stop people, the rest of your copy might as well be written in Greek.

John Caples (The grandfather of modern copywriting)
I spend more creative effort on the headline than any other aspect of my work. Headlines are crucial.

Gary Halbert (Legendary Direct Marketer. Is known for writing the most successful sales letter in history)
I realized a great truth about headlines: Your level of interest is directly proportional to the presence of two factors: benefit and curiosity.

Gary Bencivenga (dubbed the greatest living copywriter in the world)
The success of an entire advertising campaign may stand or fall on what is said in the headline.

Don Belding (Advertising Hall of Fame Inductee)
Now if that doesn't convince you about the importance of the headline, I don't know what will.
Listen:
The cold-hard-fact is, unless your headlines wrench on people's curiosity and stomp on their greed glands, your marketing content will be left with a status of....
......Dead And Buried!
Here's what the great marketers know that lesser marketers don't fully understand:
Your headline is what opens the door to the sale.
Know this:
Your headline is really your salesman. In other words, it's your headline that "sells" a prospect on opening an email, reading a blog post or clicking on an ad.
Now image this:
Imagine you hired a door to door salesman (let's call him Frank) to sell your product or service.
Let's say Frank works all week long and on average, he knocks on 100 doors per day. But Frank only gets one door opened per day, sometimes not even a single door opened.
Would you find that acceptable? I don't think you would.
I think you would probably have Frank fired, wouldn't you? I know I would. But here's the thing....
...Most marketers headlines are performing just as bad as Frank, yet marketers do NOTHING about it.
Well, to me, that makes about as much sense as a circular firing squad.
Now, let's get back to your question.
You asked me about my little cheat sheet (actually, it ain't that little), remember?
Ok, let's talk about my cheat-sheet (headline swipe file).
I think we can agree that when it comes to writing headlines, most marketers are about as confused as the Kardashians on Father's day. In fact, I'd go as far as saying they wouldn't know a good headline if it bit them in the face.
But YOU my good friend, have just been told the secret to writing compelling headlines. Did you catch it?
Well, go back to Gary Bencivenga's quote and read it carefully.
That's right, the secret to writing impossible to ignore headlines is to have a big fat juicey benefit, mixed with a good dose of curiosity.
But here's the thing....
...KNOWING a headline has to contain those two elements and actually WRITING ONE are two different things entirely.
You see, a tightrope-walker could give you the exact knowledge on HOW to walk a tightrope, but that doesn't mean you could DO it, right?
Well, it's pretty much the same with writing headlines.
So what's the answer?
Enter my Headline Swipe File.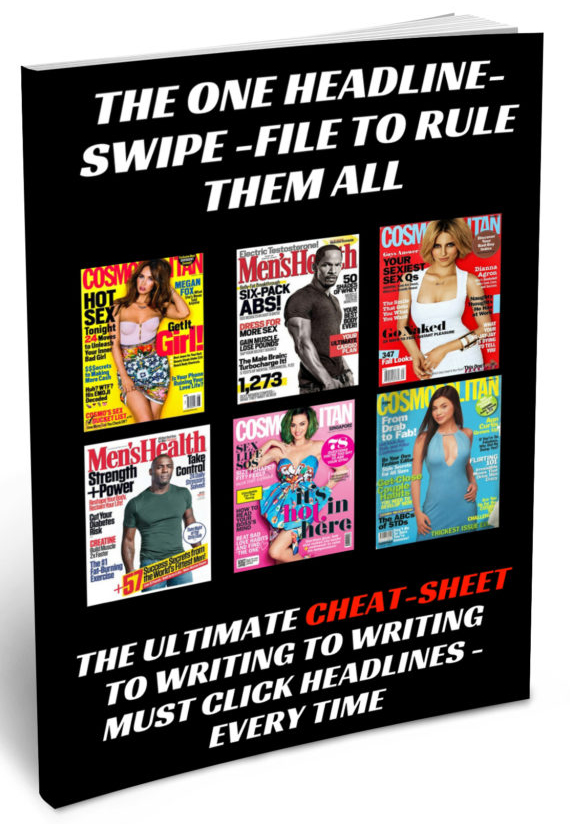 I have compiled the very best headlines (over 400) from two sources. These two sources truly set the standard when it comes to writing irresistible headlines.
And those two sources are, of course, the two magazines I featured under the title - Men's Health Magazine and Cosmopolitan Magazine.
Why these two magazines?
Another excellent question, Chief.
You're kinda sharp, aren't you?
Well, let me tell you something very interesting. These two magazines have long been the go-to source for A-list copywriters seeking inspiration and headline ideas.
You see, these two magazines constantly knock out headlines that contain the two essential ingredients (benefits and curiosity) that make a headline successful and, they do it in a way that makes all their headlines have....
...The Pulling Power Of a Junkyard Crane Magnet!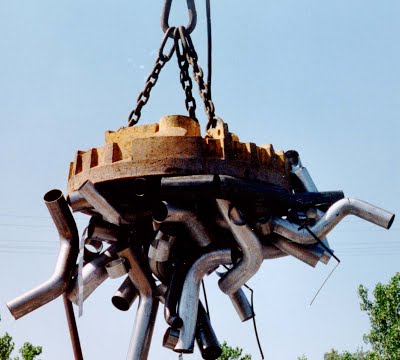 And now YOUR headlines can too.
How?
Huh? Are you serious? By using my swipe file, of course.
Look, maybe I'm not being clear enough.
Listen, sometimes trying harder is not the answer. Sometimes you gotta know when to give up and have a margarita.
And this headline swipe file IS your margarita.
Drink and be merry my friend. I mean, why struggle writing headlines when it can be this easier, a LOT easier.
OK, So Who's This Headline Swipe File For?
I will answer this in plain, blunt verse.
It is for those WHO:
when coming up with headlines, feel as frustrated as a guy with OCD who works at a doorknob factory.
want to get their greedy little hands on 400 (plus some) headlines (to use as templates) that are hotter than a goat's butt in a pepper-patch!
are currently writing headlines that read like the back of a medicine bottle.
write blog post titles that are more ignored than a mother-in-law's phone call.
have ads that are clicked less than John Goodman's seatbelt.
want their subject lines, blog posts, and ads to stand out like a christmas tree in July.
have email open rates lower than 30% (Sorry, but if you're consistently getting lower than 30%, your subject lines suck.)
want to skyrocket their email opens, readership, click throughs, and ultimately...their sales.
OK, so that's WHO it's for, now let's talk.....
...Sorry, what was that?
You say you're not entirely convinced this swipe file will be easy to use?
Well, it's actually quite elementary, my dear Watson.
Would you like to see some proof of my pudding?
Alrighty, I'll give you a few examples straight out of thisahere swipe file.
Now, to give it some context, let's say you provide a service that helps bloggers, ok?
OK.
Now, when you have to come up with a subject line, blog post title, or ad headline (or whatever), what you do is, you simply scan your googlies through the Swipe File until one of the headlines grabs your eye.
Then, you simply change one or two words, and within one hot minute, you've got the perfect headline.
Let's have a look.
Hmm, let's see now, ah, how about this one:
4 STEPS TO A SEXY ASS
Well, we could change that to:
4 STEPS TO A SEXY BLOG
See how that works?
You simply change it to fit your product or service.
Ok, let's do a few more.
Check 'em out:
MAKE YOUR BOSS WANT TO PAY YOU MORE!
Could Be:
MAKE YOUR CUSTOMERS WANT TO PAY YOUR MORE!
---
 7 PAINS YOU SHOULD NEVER IGNORE
Could Be:
7 BLOG STATS YOU SHOULD NEVER IGNORE
---
 8 SEX POSITIONS YOU'VE NEVER THOUGHT OF
Could Be:
8 CONTENT IDEAS YOU'VE NEVER THOUGHT OF
Are you gettin' this?
Look, here's a few more:
THE EASY WAY TO BOOST YOUR SEX DRIVE (We Stole a Few Secrets From Guys)
Could Be:
THE EASY WAY TO BOOST YOUR WEBSITE TRAFFIC (I Stole a few Secrets From 7 Figure Bloggers)  
---
WHAT'S BETTER - FREE WEIGHTS OR WEIGHT MACHINES?
Could Be:
WHAT'S BETTER - FREE TRAFFIC OR PAID TRAFFIC?
---
6 THINGS IN YOUR CLOSET THAT MAKE  YOU LOOK CHUNKY
Could Be:
6 THINGS ON YOUR WEBSITE THAT MAKE YOU LOOK UNPROFESSIONAL
---
EASIEST WAY TO LOSE WEIGHT FAST - THIS SIMPLE TRICK DOES IT...AND IT COSTS NOTHING!
Could Be:
EASIEST WAY TO GET MORE SUBSCRIBERS FAST - THIS SIMPLE WAY DOES IT...AND IT COSTS NOTHING!
---
WHY DO SOME GUYS GET BIGGER, MORE DEFINED MUSCLES?
Could Be:
WHY DO SOME BLOGGERS GET BIGGER READERSHIP AND MORE CONTENT SHARES?
---
10 CHEAP, FUN DATE IDEAS
Could Be:
10 CHEAP, FUN MARKETING IDEAS
See how monkey-simple this is?
Anyway, that's probably enough examples. If you don't get how to use a swipe file after that, you must be brain dead.
But I suspect your cunning, sharp mind is racing with headline ideas now, isn't it?
I thought so.
And that's the beauty of having a headline swipefile; it sparks an explosion of headline ideas.
Not only does it spark ideas, but a headline swipe file will give you a template to writing world class headlines - every time.
How sweet it is.
Look, here's the bear-bottom-line:
If you really wanna move-the-needle with your email opens, blog readership, ad click rates, and yes, your sales conversions....
...then get your greedy-little-hands on this masterpiece collection of headlines.
As you have already seen, these ain't no "mickey mouse" headlines; just hard-nosed proven headlines that will get your reader's attention like...
....A Piece Of Chocolate Cake In Front Of a Bunch Of Fat Kids!
OK Mr "Email Marketing Maverick", how much does this swipe file cost?
I was waiting for you to ask that.
Well, Chief, if I told you it cost $3,000 would think that was fair?
No? Yeah, I would have to agree, that is kinda steep.
What if I told you it cost $300 would consider that to be fair?
No? Hmm. This is where we disagree.
Why do I disagree?
Because I know how much MORE attention your marketing content will get once you start using this swipe file.
That's right, more emails opened, more content read, more ads clicked; all of which will lead to an increase of SALES.
Also, you're purchasing a product that's an evergreen resource. Let me tell you, I use this swipe file more than Gordon Ramsay uses the f-bomb. (that's a LOT, isn't it?)
Listen, you're not gonna run out of headline ideas any time soon with this swipe file, that's for certain.
So yes, $300 sounds more than fair.
But worry ye not....
....I have good news for you:
It's not gonna cost $300 either.
Nope.
I'm going to let you have this masterpiece collection of headlines (Swipe File) for a measly $27
Just Know This:
In an ADHD riddled world, a "meh" headline ain't gonna cut it. It takes a world-class headline to cut through all the noise. And a headline swipe file is the dirty-little-secret to effortlessly pumping out world class headlines that flat-out work!
P.S. Oh yeah, I've put a little bonus inside the swipe file that, I believe, is just as invaluable (if not more) as the swipe file itself.
You'll see.