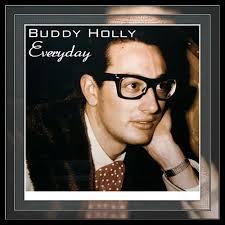 "Everyday it's a gettin' closer
Goin' faster than a roller coaster"  ~ Everyday – Buddy Holly
What's the dill, pickle?
Hey…
Kool Biz tip for ya today.
Although…when don't I?
But first…
Here's somethin' ya probably didn't know about me:
I used to make a livin'  hitting pig-skins with sticks.
Yep, that's right, I was a drummer.
I played in a 50′s Rock and Roll band playing Buddy Holly songs.
Fancy that eh?
Yes, I'm talkin' hair greased and slicked back, grey flannel suites. The whole kit and caboodle.
Anyways…
One of my favorite B H songs was called – Everyday.
Do ya know it? If not, go check it out on Youtube. It's a goodie.
Now, while the topic of the song is about "love" that's growing stronger and faster, it matters not.
Because I'm going to twist and tie it into a business-lesson in a most wonderful way.
Watch!
Geez, I really put the pressure on myself there didn't I?
Let's see if I can deliver , shall we?
Awrighty….
Here starteth thee lesson:
Now, look at the lyrics in quotation marks at the top of the page. What do ya think are the three keywords?
That's right my smart-as-a-whip friend!
You got it.
They are: everyday…closer and faster.
Now in business, we all wanna achieve our goals and hit success in a BIG way. We want to get closer to that being a reality, and we want to get there faster too right?
Of course I'm right.
But let's take a look at that nasty looking word that wasn't mentioned in that last sentence.
That relentless, uncompromising, in-your-face word……
"Everyday".
In business this is a very important word.
And here's how "everyday" is applied to your biz:
Find out what activity in your bizness brings in the "green", then do that…..e.v.e.r.y.d.a.y.
It's NOT a word for:
Opportunity-seekers…freebie-hunters…hold-my-hand-show-me-what-to-doers…drainers…bludgers or pikers.
No-Sur!
The only thing those folk do in their business everyday is bitch, moan and whine.
Unfortunately, when it comes to internet marketers, they think this "everyday" thang doesn't apply to them either.
But here's the dealio:
Growing a business is like nurturing a baby.
It needs to be feed everyday.
Bubba needs milk…bubba gets milk. It will scream the house down until it gets it.
And guess what chief?
Your business needs to be feed everyday too.
And do you no what food satisfies your business?
Sales!
But to get sales flooding in everyday, ya gotta create something called momentum.
And momentum feeds off of everyday action.
Harken:
It's what you do every day that counts. It's the ONLY way to build any type of momentum. No matter what ya doing.
If you only do it once a month, you're playin' around.
Once a week, it's a hobby
But EVERYDAY...
Now that's where Da-Bidniz-Get-Done.
It'll bring ya closer and faster to your biz goals like nuttin else will.
Hope this put a lil' Hoo-Haa! into ya step like it did mine.
Until next time….
Keep on, keepin' on.
Kelvin Dorsey