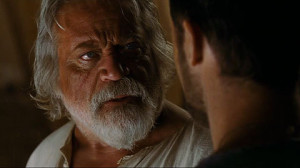 Proximo:  You are good Spaniard, but you're not that good. You could be magnificent.
Maximus:  I am required to kill, so I kill. That is enough.
Proximus:  That's enough for the provinces, but not for Rome.    ~ From the movie Gladiator
Ahh, yes……
GladiatORRRR!
One of the few movies you can watch again and again.
In this scene (above) Maximus's current mindset and skill were not BIG enough.
There was going to come a big step up for Maximus.
Going from the provinces to Rome, the stakes will be severely raised. And more will be demanded of him.
And here's where I wonderfully and masterfully tie this all up with selling ya stuff online.
I've seen it time and time again, where someone is selling a product to family, friends and even to a local market (The Provinces) and then attempt to transition to selling online (Rome).
And like Maximus, they say:
"I am required to sell, so I sell. That is enough".
But alas…..
It ain't enough.
Sooo much more is needed and demanded of you when going from selling offline to selling online.
Cuz online you'll most likely be selling in the form of a sales video or sales letter (Page).
And selling in print must be learnt.
Aka copywriting.
Listen Boo boo….
If ya want people to buy from your righteous self online,  learn copywriting.
Not learning it will keep you a day late and a dollar short.
And frustrated as an Amish electrician.
Ya know, winning prospects over face to face is one thing, but to do it online is a whole other deal.
If you're selling anything online and ya haven't read the books I've listed below…..
Fie on you!
Aight, here's the list of books to immerse your bad self into:
* Kick-ass Copywriting Secrets of a Marketing Rebel ~ John Carlton
* Hypnotic Writing ~ Joe Vitale
* The Letter Book ~ Robert Collier
*  How to Write a Good Advertisement ~ Victor Schwab
Gaining the valuable insights from these books is like having a 40 meter head-start in a 100 meter race.
That's it for today.
Carpe diem! (Look it up)
Kelvin Dorsey