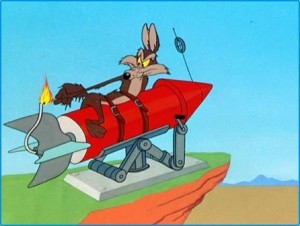 Yo.
Here's part two as promised.
Just for the record, I hate "two-part" content.
But I'm also not into writing long-ass content that takes a whole coffee and a biscuit to get through.
But on this occasion, my hand was forced.
I promise this won't become a habit Chief.
Ok, enough rambling, let's finish this thesis.
Awrighty….
 The Positive Traits:
*  There's no denying that Wile E. Coyote was committed to the task at hand. It was "get bird, or die tryin'".
50 Cent style baby!
Although… Fiddy-Cent ain't got nothin' on The Coyote.
I mean, the name 50 Cent screams "half-heartedness" if you ask me. Why not 100 Cent, eh?
The Lesson:
A lot of folk get into internet marketing or e-commerce thinking that somehow they can cheat on the "commitment" part.
They're not committed.
They're just "kinda sorta" interested.
Listen Boo Boo, just cuz it's online doesn't mean it's different, easier, or less difficult.
It's business.
And it's gonna require all-out balls-to-the-wall commitment just like any other business.
*  The Coyote was resilient.
Wile E. Coyote makes the Terminator look a "girly-man". The Coyote was often burnt to a crisp, squashed flat as a pancake, or at the bottom of a canyon, but would always rise to be squashed again, and again and again.
Tougher than a two-dollar steak that ol' boy.
In fact – The Coyote was a living and breathing allegory of resilience. Just look at the definition of resilience and tell me if this ain't Wile E. Coyote.
Here's the definition of resilience:
The power or ability to return to the original form, position, etc., after being bent, compressed, or stretched; elasticity.
Hmm.
Seems like I'm "spot on" again doesn't it?
The Lesson:
With Internet marketing, your gonna have that: "Am I ever gonna catch that damn bird?" feeling A LOT.
Money will be lost, websites will crash, advertising won't work, products won't sell, data will get wiped.
You WILL be tested soldier.
Will you fold, or bounce back?
Little side-note:
I'm pretty sure "tests and trials" are God's way of ensuring "success and power" doesn't end up in the hands of idiots.
By the word "idiot" I mean:
Lazy-slobs with no backbone…common-sense…courage…tenacity…vision or resilience (aka cry-babies).
Let's mush on.
*  Wile E. Coyote was resourceful, no doubt.
It would of cost Wile E. Coyote a small fortune buying all those Acme products (gizmos and contraptions) by mail-order.
The Coyote was cashed up baby!
One does not get "play money" without being resourceful.
The Lesson:
You don't need to be Donald Trump to know cash-flow is the "life blood" of a business.
Without cash-flow, it's a tough row to hoe, yo! (ok, I'll admit I probably pushed the rhyming thang a bit too much there).
And good ol' fashioned "resourcefulness" is the order of the day when it comes to cash-flow.
I'm gonna quote the man with the biggest gob-full of teeth ever seen (Tony Robbins) on the topic of resourcefulness.
Here it is:
"It's not the lack of resources, it's your lack of resourcefulness that stops you". (ouch)
But….
Tru dat!
So there we go….
Done I am.
Kelvin Dorsey