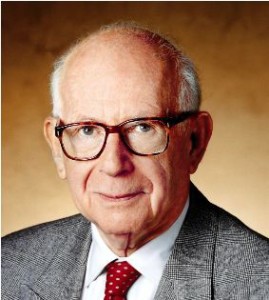 There's this guy….
….who for nearly 4 decades – the 30′s till the 70″s –  dominated the direct marketing world like a boss.
He was the 800-pound-gorilla in the industry that nobody could out sell.
His  frustrated competitors (copywriters) watched on with breathless envy.
I mean…this guy could sell a comb to a bald man.
He was hailed "the greatest copywriter of all time"
Yup, he did it with the power of words.
Words that persuade.
Words that cause emotion.
Words that sell.
His sales-letters told mesmerizing stories, had air-tight logic and made a reader lust after the product he was selling so bad…the just had to buy.
And buy they did!
I mean, the man was a genius – he could disprove gravity.
Now think about this:
What if you could pick this "master of a salesman's" brain..and…suck out (sounds zombie-like doesn't it?) every last ounce of priceless wisdom from his uber successful career that spans over 40 years?
Or drill deep down into his sales psychology and draw out all his "psychological triggers" and secrets that spawned all those sales?
Or discover how he came up with all his neck-snapping headlines?
Well guess what Chief?
You can!
You see, the guy I'm talking about has long since passed on, but fortunately…he penned down his secrets.
Oh yeah, you probably want to know his name.
His name is Victor O. Schwab.
And o'l Vic wrote a book called How To Write A Good Advertisement.
It's a treasure trove of knowledge.
It reveals his most closely-guarded battle-tested secrets that'll will make you alotta bank.
You truly are getting his exact methodology on a silver platter.
If you sell anything at all – online, offline, sideline – go hunt this book down.
You know if I said, this book was extremely hard to get, and there's only a few left in print and so forth, you would want this book even more.
But cha know what?
It is actually very easy to get.
If you want to get your greedy little hands on it, just go to Amazon.
Simple.
Read it.
Apply it.
Get money!
Good times.
Kelvin Dorsey