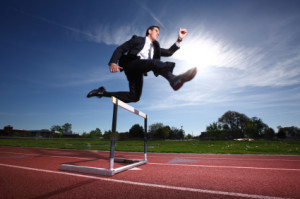 Imagine this…
You're watching the Olympics on TV.
The 100 meter hurdles is in progress, and… you notice something very strange with one of the hurdlers.
One of the runners is removing all the hurdles in his lane, and throwing them off of the track.
WUT?
He's now complaining to the officials about the hurdles being in his way.
Of course this is just straight up stupid, and no 100 meter hurdler would ever have that bad a case of the stupids.
But know this:
This "moronic" behavior is all to common with folk that try their hand at business or any entrepreneurial type gig.
How so?
Well, let me elucidate:
I'm talking about that guy or gal that starts a business with great gusto.
They're all "wind and piss like a tanyard cat" UNTIL…the obstacles start showing up.
Their "chest beating bravado" starts to retreat into a whimpering bag of nerves.
They abandon their courage and faith like a red-headed step-child.
What's goin' on here?
I'll tell ya what's goin' on -
These folk (the majority) don't "get" that success is more like a hurdles race than any other type of race.
Success is not a 100 meter sprint.
It's not a marathon.
Nope.
Success is more like a marathon combined with hurdles.
Lemme give ya Mr Websters definitions of hurdle:
*  An obstacle to overcome.
*  To master a difficult problem.
You see, in business…there WILL be MANY obstacles (hurdles) to jump (overcome).
It's as reliable as God's sunrise.
Are you picking up what I'm putting down here?
To think, or to not expect many obstacles in business is to be like the hurdler I mentioned earlier.
It's foolishness to boot.
Here's something else folk don't get:
Obstacles (hurdles) are "agents" of promotion.
They are the very thing that will take you to the next level in your business.
Hoo Hah!
(I can feel my backbone turnin' to steel just writing this!)
Because to overcome an obstacle, you must solve problems.
And every problem solved, is a new level achieved.
It's overcoming obstacles that makes you a bigger, wiser, stronger person.
Know this:
Big people achieve big things.
Little people achieve little things.
And the ONLY difference between a big person and a little person is: The big (courageous) person jumps the hurdle, while the little (scaredy-cat) person bitch-n-moans about the hurdle.
If you wanna achieve big things, learn to love obstacles.
Problems are your friend.
Not your foe.
(boy, I really went all Tony Robbins on this one didn't I?)
So….
As the Van Halen song goes:
"When you've got ya back against the record machine…might as well jump!"
Peace.
Kelvin Jumpin' Dorsey