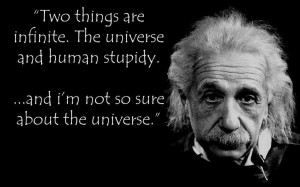 Check out what this numbnut did:
(true story)
A man walked into a Circle-K, put a $20 bill on the counter and asked for change. When the clerk opened the cash drawer, the man pulled a gun and asked for all the cash in the register, which the clerk promptly provided.
The man took the cash from the clerk and fled, leaving the $20 bill on the counter.
The total amount of cash he got from the drawer?
Fifteen dollars.
What a muppet eh?
You know, thisahere story reminds me of a lot of criminally-stoopid marketers online.
Two things come to mind.
And they both display a stunning combination of stupidity and misguided education.
Firstly:
It's marketers who brain-fart up a herculean marketing campaign, and spend their life-savings on media advertising…..only to find out NOBODY wants their product.
Whoops.
That's…
Dumb, dumb, dumb.
Secondly:
Moron marketers who's number one goal is to grow their Farcebook Fan page, or their Twitter followers instead their email list.
Listen Buckwheat…
Trying to do business on social media is like sitting at the kids table. Nothing but a big shouting-match to get attention.
But if you want to sit down at the adults table, where real business gets done….
Jump on Email.
Email is still the 800 pound gorilla online.
It's where the mustard meets the marmalade.
It's where sales and business are done.
Here's some recent research from an online analytics company called Custora:
* There's over 4.1 billion email accounts.
* 68% of consumers prefer email for receiving commercial messages.
*  66% of consumers have made a purchase online as a direct result of an email marketing message.
Hmm.
There could be something to this "email" thing.
To sum up….
To ignore building your email list is stupider than jupiter.
Imma be back later.
Kelvin Dorsey